Win new business and increase your client offering
Field Marketing Agencies
Manage campaigns from start to finish and conduct a wide range of activities such as field sales, merchandising, experiential marketing and mystery shopping.
Increase your work capacity and generate more business
From job allocation to overseeing and briefing field reps, collecting data and images, and reporting to clients, TeamHaven's all-in-one solution gives you the tools you need to gain a competitive advantage and exceed clients' expectations.
Reduce back-office time by automating previously manual processes. Pre-populate briefs so products, promotions, images or other elements vary depending on the retailer or location where the activity is taking place. Create customised real-time reports and photo galleries that can be shared with clients. For an in-depth analysis into details or issues, reports can filter and drill down by any element within the project.
Have a leading-edge technology at your fingertips from day one with no start-up costs or technical training required. Field reps love using the intuitive TeamHaven Mobile app as it's simple to use, works offline and makes collecting information easier.
With a pay-per-activity pricing structure, TeamHaven is an easy-to-budget solution that is used across multiple countries by a range of agencies and their partners.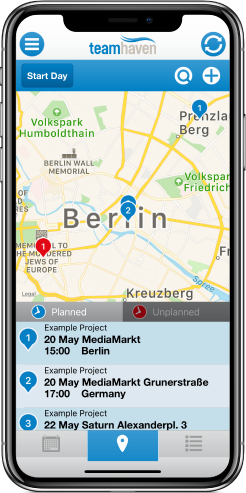 TeamHaven Features
Travel and payroll reports
GPS compliance and timestamps
Powerful, in-depth reporting
Interactive photo gallery
Easy to budget
App works in multiple languages
Staff booking system
API integration
Zoho and Microsoft Power BI integration

In less than a year, TeamHaven has completely turned our business around. We've saved around 38 hours managing each campaign and now have the capacity to take on new clients.

- Emma Barlet, Office Operations Manager, Taskforce

We work with a whole array of clients and brands. We needed to provide our clients with real-time results, integrate into their operating systems, provide photos and ensure accountability of our field teams. TeamHaven worked closely with us to set up our bespoke reporting portal to match both our and our clients' needs. A very efficient and cost-effective system.

- Sasha Johnston, Sales Director, Mitchell Stephenson
Case Studies
Find out why so many businesses have chosen TeamHaven to improve their field force automation and reporting.
Start your free 30-day trial
Contact us today for your tailored free 30-day trial, and we will set up your first project for you.